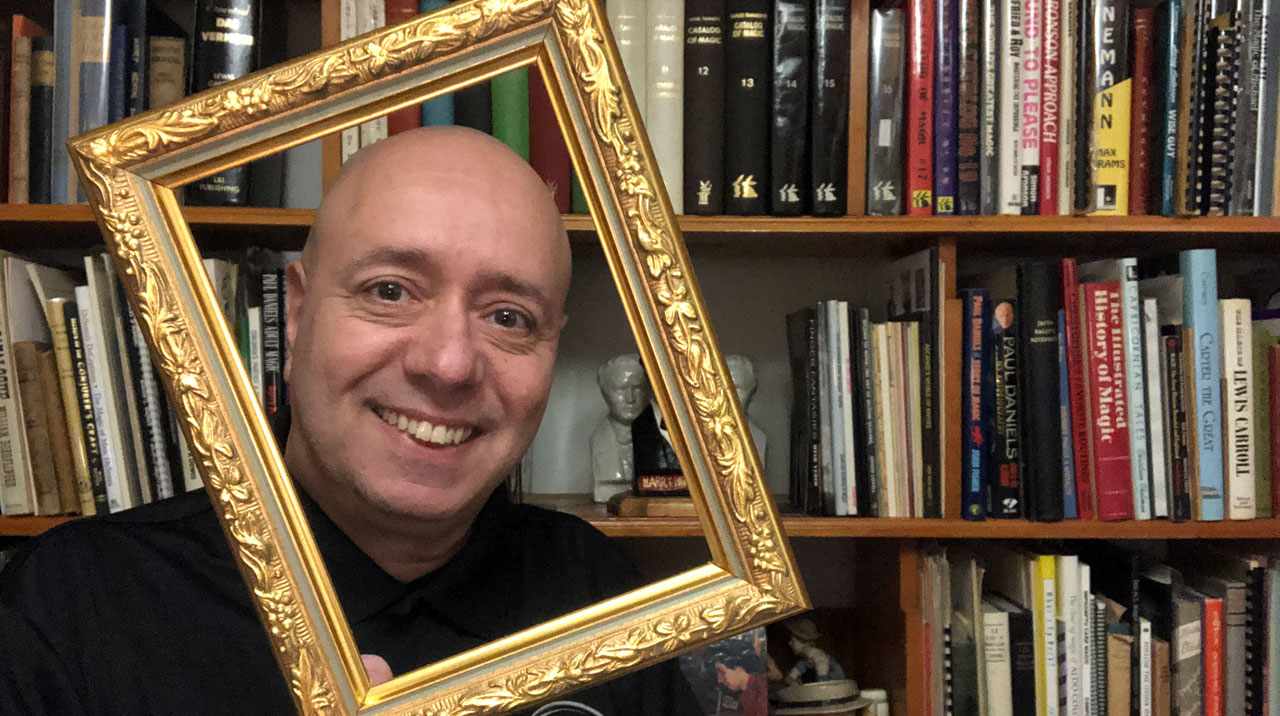 Meir started his fascination with magic and games at birth. He began learning magic and playing games for money when he was around five years old and sill living in Israel. His relatives began teaching him card tricks while playing cards with him. That's when he noticed that being small allowed him to see the cards as they were being dealt…
Once moving to New York at the age of ten, he began reading, buying, studying, and practicing magic. He consumed everything he could until he started creating his own magic routines and techniques.
While hanging out with and being involved with the New York City magic community he developed an act he called Finger Fantasies which required no props. Just his hands and fingers. Although unique, it did not attract attention in the New York area.
In 1980 he attended an important magic event that attracted many of the movers and shakers of the world magic community. It was held in Las Vegas where he performed his Finger Fantasies act. As his fingers started vanishing there were gasps in the audience and by the end of the act, he received a standing ovation.
By the time he came back to New York the word spread about this kid with his vanishing fingers and he basically became an overnight sensation who was in demand all over the world.
With renewed confidence, Meir quickly put together a longer show, a lecture and began earning money by performing locally.
In 1981 Meir entered his first magic competition at the Society of American Magicians National Convention in Boston. Amazingly he won and became their Close-Up Magic Champion which led to many new opportunities performing and lecturing around the world for magic clubs and conventions. That is also when he published his first book: Finger Fantasies.
His first major television appearance took place in 1985 when he was asked to perform his Finger Fantasies act on The Paul Daniels Magic Show, which was the highest rated television show in England and was syndicated all over Europe, The Middle East, Canada, and Asia.
This led to many more appearances on television and even a Ramones music video. It also created some major opportunities throughout the world. Unfortunately, it did not last…
On August 16, 1986 Meir was involved in a serious car accident which almost took his life. After nine surgeries and a year and a half of physical therapy he was back to normal… kind of…
You see while his car was doing somersaults on the highway a third of his right hand was severed and after all the medical procedures, he was only left with three-and-a-half fingers on his right hand. The hand he used to perform Finger Fantasies with.
While recuperating Meir began practicing and re-jigging his routines so they can be done with his limited mobility and in some cases left-handed.
In 1988 Meir decided to, once again, compete at the Society of American Magicians National Convention. He performed his entire Finger Fantasies act left-handed and once again became their Close-Up Magic Champion. He also became the first person to win the award more than once.
Since that time Meir concentrated less on performing for the general public and more on the business side of creating, marketing and selling magic to magicians. He started his MyMagic company which published dozens of books, produced more than 200 instructional videos, and marketed hundreds of routines which are regularly being performed by many of the top professionals in the field.
As a writer Meir has also had magic related columns running continuously since the early 1980s in various magazines. He publishes the popular Magic Times magazine and is the CEO of Gambling Incorporated.
But he never gave up performing. He just became very selective. He has appeared on many television shows, live shows, lectures, has served as an Emcee at hundreds of functions, and continues to do live appearances whenever he thinks they will be fun or when they are for a good cause.
His interest in sleight-of-hand led to the study of how gamblers cheated throughout history and along the way he amassed a large collection of cheating equipment and how to use them. This knowledge was put to good use as a consultant for various agencies and television shows.
In 1997 Meir was voted as The Magician of the Year by the Society of American Magicians in New York City, in 2003 he was the Guest Of Honor at the prestigious 4F Convention and in 2016 he was given the Milbourne Christopher Foundation Close-Up Magic Award for his lifetime achievements in the art.
Some of Meir Yedid's business ventures include:
►Owner and President of: MyMagic.com
►CEO of: GamblingIncorporated.com
►Publisher of: MagicTimes.com